With the advancement of technology and the expansion of industrial operations, effective management of customer service has become a critical aspect of success in the manufacturing sector. One tool that has gained considerable recognition in this regard is the ticketing system. In this article, we'll explore what a ticketing system is, how it works, the various types, and its benefits. This information is particularly beneficial for heads of customer service in manufacturing and engineering, striving to enhance their customer service experiences.
What is the Purpose of a Ticketing System?
A ticketing system, also known as an issue tracking system, is a software solution designed to organize, streamline, and manage customer service requests. These systems turn customer issues or inquiries into tickets, each assigned with a unique identifier to track the progress from initiation to resolution.
The purpose of a ticketing system is multi-faceted. It facilitates efficient management of customer inquiries, ensuring none are missed or left unresolved. It also assists in prioritizing tickets based on urgency or the Service Level Agreement (SLA), thus enhancing productivity and customer satisfaction. Moreover, it aids in data gathering and reporting, providing valuable insights into service performance and areas for improvement.
What Ticketing Systems do Companies Use?
Different companies employ various ticketing systems depending on their specific needs, size, and the nature of their operations. Some of the commonly used ticketing tools include:
Helpdesk ticketing systems: These systems focus on IT service management, offering features like incident management, problem management, and change management.

Customer support ticketing systems: These tools are more customer-oriented, providing features such as multi-channel ticketing, customer self-service portals, and customer satisfaction tracking.

Bug and issue tracking systems: These are typically used in software development, allowing users to report bugs and track their resolution.

Enterprise ticketing systems: These are comprehensive solutions that integrate with other enterprise tools like CRM or ERP systems.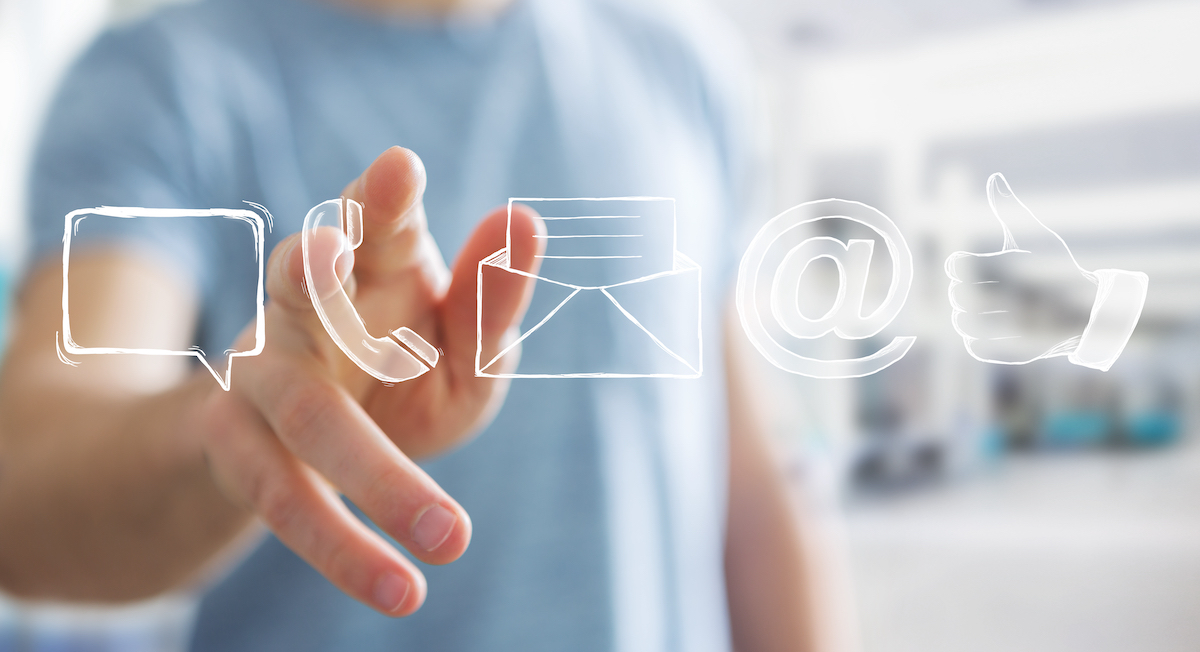 What are the Steps in a Ticketing System?
A ticketing system typically follows a systematic process to manage customer service requests. Here's a general workflow:
Ticket Creation: The process begins when a customer raises a query or reports an issue through various channels like email, chat, or phone. The ticketing system captures this query and creates a ticket.

Ticket Assignment: Once a ticket is created, it is assigned to a customer service representative or a team based on expertise, workload, or the ticket's nature.

Ticket Prioritization: The system then prioritizes the ticket based on pre-set criteria, such as urgency, SLA, or customer's status.

Ticket Resolution: The assigned agent works on the ticket, providing necessary support to resolve the issue. They may collaborate with other teams if required.

Ticket Closure: After the issue is resolved, the ticket is closed. The customer is informed about the resolution, and their feedback is sought.

Reporting and Analysis: Finally, all ticket data is analyzed for patterns, performance, and insights to improve future customer service.
Is a Ticketing System a CRM?
A ticketing system is a component of Customer Relationship Management (CRM) but not a CRM in itself. A CRM system is a comprehensive tool that manages all aspects of customer interactions, including sales, marketing, and customer service. The ticketing system falls under the customer service component, helping manage and resolve customer queries and issues.
However, the lines between ticketing systems and CRMs are increasingly blurring. Many modern ticketing systems now offer CRM-like features, such as contact management, customer history tracking, and integration with marketing and sales tools. Conversely, numerous CRMs now include advanced ticketing capabilities as part of their offerings.
In the next part of the article, we'll explore different types of ticketing tools, the concept of SLA in a ticketing system, and the numerous benefits of employing a single ticketing system.
Understanding Ticketing Tool Types, Ticket Workflow, and SLA
In the first part of this article, we introduced the concept of a ticketing system, its purpose, different types of ticketing systems used by companies, the steps involved, and its relationship with CRM. Now, let's delve deeper into the types of ticketing tools, the concept of ticket workflow, and the crucial role of SLA (Service Level Agreement) in the ticketing system.
What are Ticketing Tool Types?
As mentioned earlier, companies use different ticketing tools based on their requirements. Let's explore these in more detail:
Helpdesk Ticketing Tools: These are essential for IT service management and include popular choices like JIRA Service Management and Zendesk. These tools help manage and resolve IT incidents and requests.

Customer Support Ticketing Tools: Tools like Freshdesk and Zoho Desk fall into this category, enabling businesses to handle customer queries efficiently across multiple communication channels.

Bug and Issue Tracking Tools: Platforms like Bugzilla and GitHub Issues are common choices for software companies to manage and resolve software bugs reported by users.

Enterprise Ticketing Tools: These robust solutions, such as ServiceNow, integrate with other enterprise systems to provide a comprehensive customer service solution.
What is Ticket Workflow?
Ticket workflow refers to the process that a ticket follows from creation to resolution within a ticketing system. It involves several stages, including ticket creation, assignment, prioritization, resolution, closure, and finally, reporting and analysis. A streamlined ticket workflow ensures efficient handling of customer issues and queries, leading to improved customer satisfaction.
What is SLA in a Ticketing System?
SLA, or Service Level Agreement, is a contract between the service provider and the customer that defines the service's expected quality, including aspects like response time, resolution time, and availability. In a ticketing system, SLA helps prioritize tickets and ensures that all issues are handled within the agreed timeframe, maintaining high levels of customer satisfaction.
What is a Ticketing System also Known as?
A ticketing system is also commonly referred to as an issue tracking system, help desk system, customer support system, or service desk system. Regardless of the terminology, the core function remains the same - managing, tracking, and resolving customer service requests efficiently.
What are the Benefits of a Single Ticketing System?
Having a single ticketing system offers numerous advantages for businesses:
Centralized Management: All customer service requests are managed in one place, making it easier to track and resolve issues.

Improved Communication: With a unified system, communication between teams becomes more efficient, reducing resolution time.

Enhanced Productivity: A single system eliminates the need to juggle multiple tools, allowing staff to focus on resolving issues rather than managing them.

Better Customer Experience: Faster resolutions, personalized responses, and improved communication lead to a better overall customer experience.

In-depth Reporting and Insights: A unified system provides more accurate and comprehensive data, enabling better decision-making and service improvement.
Introducing the ADTANCE Ticketing System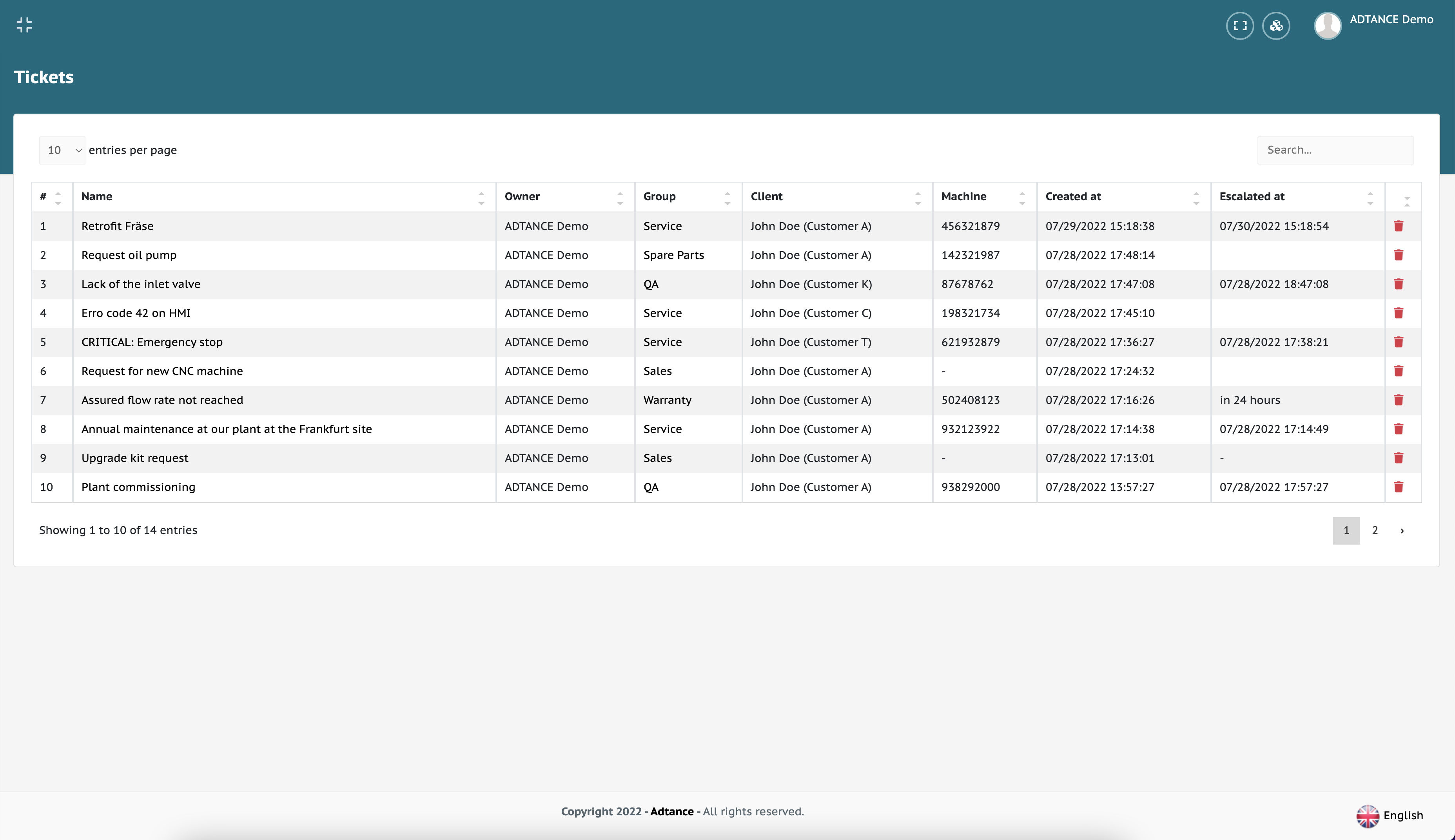 The ADTANCE Ticketing System is specifically designed with the unique needs of the manufacturing sector in mind. Recognizing the complexities and the high demands of the manufacturing and engineering industries, our platform merges the best features of ticketing systems to provide a comprehensive, streamlined solution.
Combining Essential Features: ADTANCE Ticketing System brings together the vital functionalities of helpdesk, customer support, bug and issue tracking, and enterprise ticketing tools. This comprehensive approach simplifies management and coordination, saving time and resources.

Streamlined Workflow: The system ensures seamless ticket workflows, from creation to resolution. It facilitates proper assignment, prioritization, resolution, and closure of tickets, thereby enhancing efficiency and reducing downtime.

Adherence to SLAs: With built-in SLA management features, the ADTANCE ticketing system assures compliance with agreed service level agreements. It ensures that all customer service requests are dealt with promptly and resolved within the agreed timeframe, promoting high customer satisfaction levels.

Unified Interface: Instead of grappling with multiple platforms, with the ADTANCE Ticketing System, you have a single, unified interface. It makes for improved communication between teams, increased productivity, and an overall enhanced customer experience.

Data Analytics and Insights: Our system offers powerful analytics tools, providing insightful and actionable data. It helps you better understand your customer service operations and drives continuous improvement.
By adopting the ADTANCE Ticketing System, you integrate a solution built on a deep understanding of the manufacturing industry's needs, ready to adapt to its evolving challenges. Our ticketing system is the key to unlocking a higher level of efficiency in managing service requests and improving the overall customer experience.
Learn more about the ADTANCE Ticketing System.
By leveraging a comprehensive ticketing system, companies can enhance their customer service operations, leading to improved customer satisfaction and loyalty. ADTANCE provides innovative solutions to help businesses streamline their customer service processes and deliver exceptional customer experiences. Learn more about how we can transform your customer service operations here.
In the era of digital transformation, staying ahead of the curve necessitates implementing smart solutions like a robust ticketing system. Embrace the future today!
Explore More: After Sales Service: What it is and why it matters?