Remote Support with ADTANCE Support
Do you want to provide fast and competent service for your customers, carry out faster maintenance and inspections and thus guarantee less downtime? With ADTANCE support and the use of smart glasses, you offer high-quality service and qualitative inspection via remote assistance.
Please take a closer look at our remote support solution.
What is ADTANCE Support?
ADTANCE Support, like all ADTANCE modules, is integrated into the ADTANCE Smart Service platform and offers your company the possibility to provide service, inspection and maintenance for your customer remotely.
For every company, the satisfaction of its customers is a priority. Each company is responsible for the smooth functioning of its products and, if possible, wants to ensure this at all times and everywhere.
But how can this work if the customer is located further away, for example abroad? How can fast, reliable and competent service be provided when it is very urgent because an entire production plant is shut down?
ADTANCE Support offers the solution. The video-based service system uses a livestream to simplify communication between one or more experts and field workers, even when they are far away. The solution can be used by using mobile devices such as smartphones & tablets or by wearing smart glasses. To do this, the ADTANCE SmartApp must be installed on the mobile devices so that the Smart Service platform can be accessed. The expert can, among other things, use his PC or Smartphone to connect live from a distance and can provide the worker at a machine with remote assistance for problem solving, inspection or maintenance. With the use of remote support you can thus identify the source of the problem together with your customer and find a solution. This makes daily service and support assignments, as well as maintenance and inspections, easier and more efficient.
Advantages of ADTANCE Support
For the fastest possible assistance, ADTANCE Support can be accessed directly from desktop or any mobile device.
If a defect cannot be remedied immediately, you at least know where the problem lies and what expertise and spare parts are needed. Using the QR Code scanner built into the SmartApp, defective parts can be scanned so that the expert knows exactly which component it is.
The Smart Service platform is completely web-based, without any additional software installation. As these processes are often data-sensitive, the entire connection is SSL encrypted and protected with passwords. All ADTANCE systems run on german servers. On request, we can also set up our own servers for customers - in accordance with internal guidelines.
Furthermore, desired functions can be added at any time by the ADTANCE development team.
You don't really know why you should use ADTANCE Support in your company? Here is a summary of the benefits:

Do you want to offer your customers support in your branding and corporate design? No problem. Both the SmartApp provided for download and the ADTANCE Smart Service platform and URL can be branded to your company.
Do you have your own ideas or are you missing a function? New functions can be added at any time by the ADTANCE development team.
Still not convinced? Read the use cases of our customers and find out how Evonik, LESER & co. use and implement ADTANCE Support for themselves.
Using ADTANCE Support with the Example of Smart Glasses
A support process starts when the service expert who is responsible for troubleshooting logs in to the ADTANCE Smart Service platform through his computer or tablet.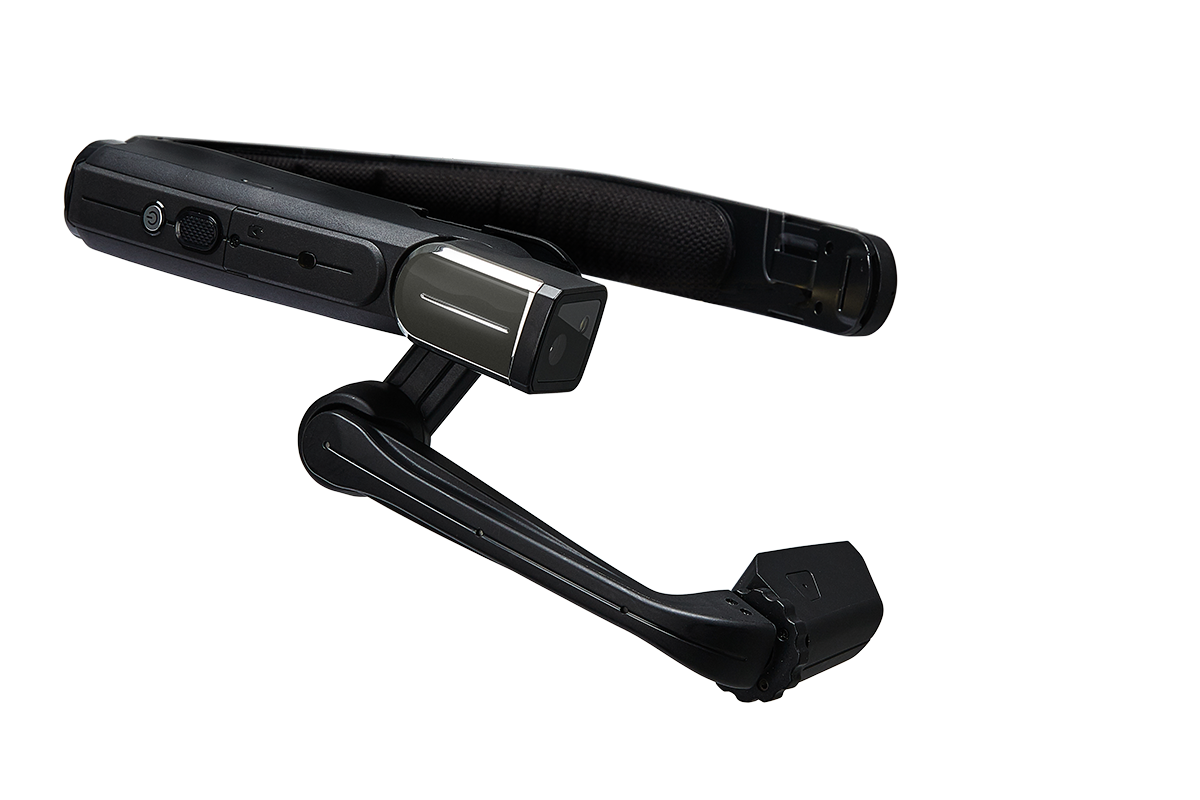 On site, a local service technician or a customer employee puts on the smart glasses (e.g the HMT-1 or HMT-1Z1 from our partner RealWear) and goes online via a WLAN connection. We can set up this WLAN access on request - completely free of charge. The wearer of the smart glasses receives a PIN on the display of his glasses and passes it on to the service expert for identification by phone. The service expert then verifies the PIN on the Smart Service platform. The connection is established - both parties are now in the same remote support session.
The service expert sees the image on his screen that the service technician's or employee's smart glasses are recording on site and can provide remote assistance - no matter where in the world you are.
A Multitude of Possibilities Beyond Clear Image Transmission - with ADTANCE Support
Clear Sound Transmission
ADTANCE Support not only enables clear picture transmission, the solution also transmits the sound, so that the expert - to stay with the example of smart glasses - can talk to the worker wearing smart glasses. This enables the expert to provide remote assistance and give instructions to the employee on site. He can also send instructions from his computer to the display of the smart glasses. For example, by marking a point in the employee's field of vision.
Photos in HD Quality
With ADTANCE smart glasses you can also take HD quality photos, either by pressing a shutter release directly on the glasses or remotely via the Smart Service platform. The entire stream can be recorded if required and can be retrieved later at any time.
But what if other experts need to be consulted? No problem!
Unlimited Number of Participants and Integrated Voice Program in Over 140 Versions
ADTANCE Support allows you to connect additional participants from all over the world. Language barriers, especially between international forces, are overcome by an integrated language program in 147 versions, which can immediately import translations on the display.
What you Need to Use ADTANCE Support
In order to use the ADTANCE Support solution, you either need to purchase smart glasses equipped with the ADTANCE SmartApp, for which a one-off fixed price is charged, or you need to own a mobile device on which the ADTANCE SmartApp is installed. On mobile devices, the operating systems iOS from Apple and Android from Google are supported. The ADTANCE SmartApp is available for download from the Apple Store and Google Play Store. To connect to the SmartApp, a temporary support licence is required, which can be renewed annually. With a supporter licence you can access as many mobile devices as you like. Any number of support licences can be connected to the ADTANCE SmartApp. With an ADTANCE licence you also receive 24/7 support and you will be always up dated.
Your Data is Safe with Us
To guarantee the security of your data, ADTANCE Support, like all other modules of our Smart Service platform, uses the highest security standards.