The all-in-one service solution for your digital customer portal
With the ADTANCE Smart Service Platform, you configure your own customer portal for yourself and your customers within a few clicks. The modular structure offers you the possibility to grow together with the requirements of your customer:
You want to start with a central ticketing system and add further functions like a spare parts store and remote support or start with a complete platform including condition monitoring and digital maintenance folder?
All this is possible - according to your wishes, requirements and with your design.
Create your customer portal in 5 steps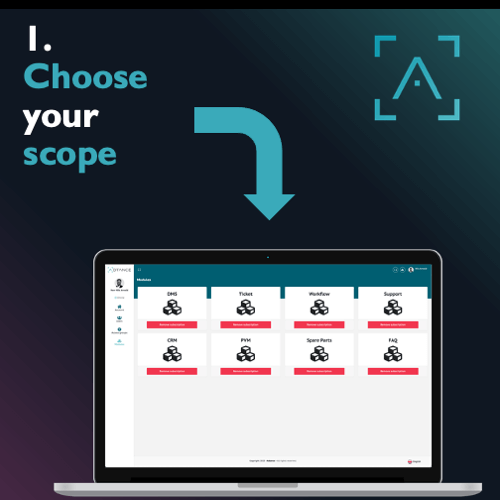 1. Choose your scope
First select from our solutions the desired scope of the customer portal.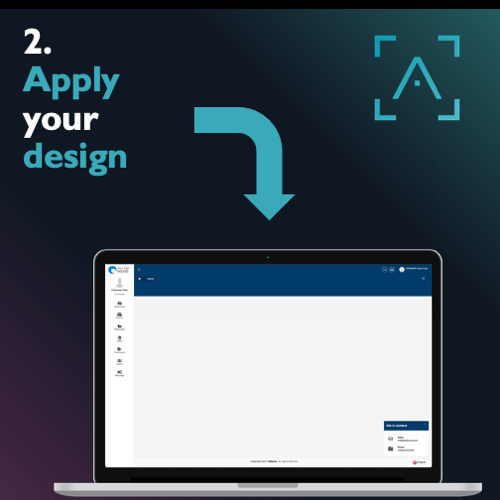 2. Apply your design
Then you can fully customize the design to your company's specifications.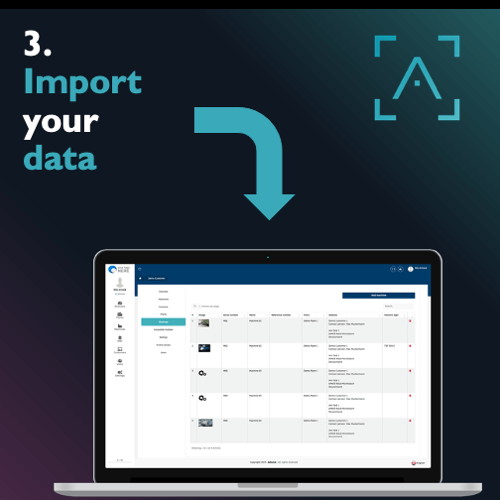 3. Import your data
Import all your data, whether it's customers, machines, orders, spare parts and more.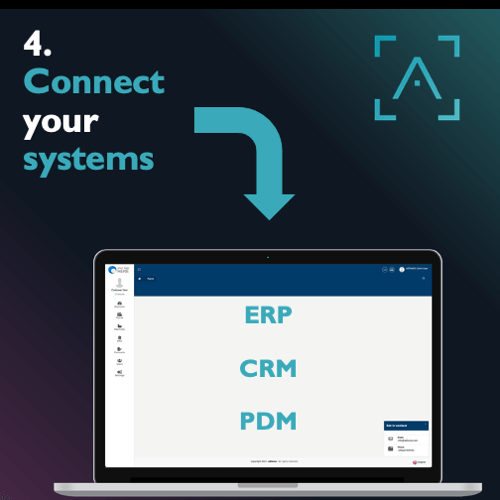 4. Connect your systems
Connect the customer portal with your existing systems such as ERP, CRM, PDM or other solutions.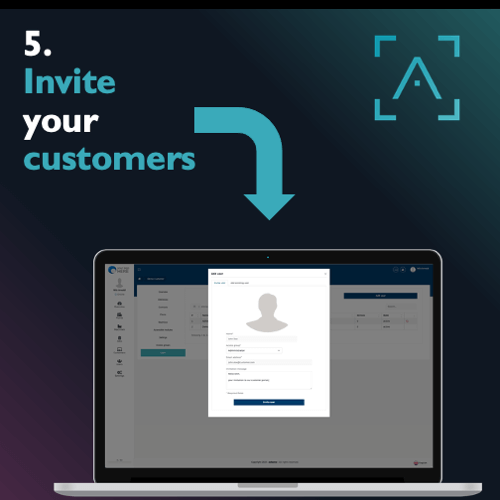 5. Invite your cutomers
Invite your customers' users into the system to give them a whole new digital customer experience.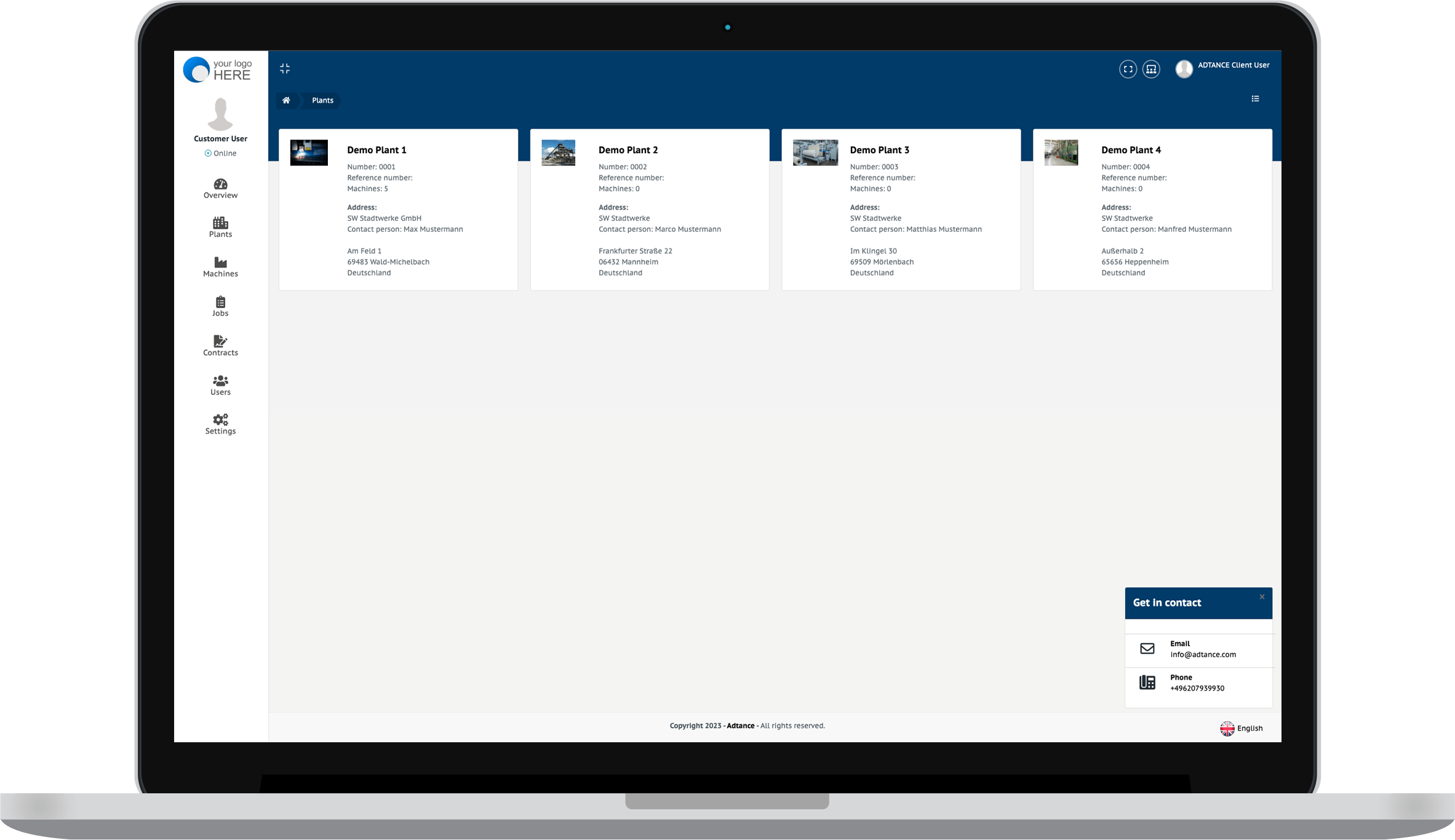 Process
The process of implementing a digital offering is simple and straightforward for the customer with the help of the Smart Service Platform. In just a few simple steps, you can start, expand and automate your customer portal completely.
Based on the requirements and wishes of you and your customers, the solution is set up and optimized for you.
---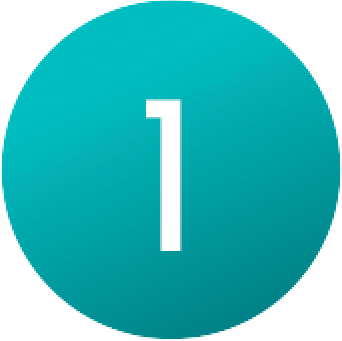 We put together your desired solutions
In addition to the ADTANCE modules, other software solutions can also be connected
---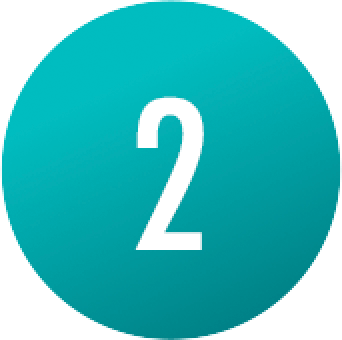 The portal is individualized based on the wishes
Whether simple design adaptations or more complex functional requests
---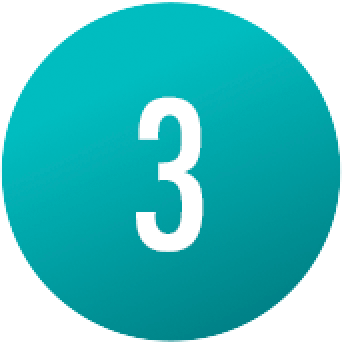 A constant partner even after deployment
In addition to the software, we will work with you to develop the necessary documentation
---
No matter what scope your solution should have or at what point you are at, together we develop the platform as well as all required documentation.
In addition to customizations, individualization, and automations, we connect the system with your already deployed solutions so that you do not have to maintain data multiple times.
Preparation
Every project requires appropriate preparation, which should of course be as extensive as necessary but as resource-saving as possible.
To facilitate your preparation, the platform offers you the possibility to process and intelligently link any type of data source, so that you can, for example:
create a spare parts store with a parts list in 3 clicks
create a digital maintenance folder within 5 minutes
create an inspection checklist with just one import
determine threshold values for monitoring at the push of a button
Success thanks to ADTANCE Smart Service
The use of the ADTANCE Smart Service platform, as the basis for your digital offer, contributes in many points to an optimization of resources, whether it is a question of costs, turnover, quality or working time. Based on already implemented platform for customers, the following results come from everyday life:
---
67%
On average, customers were able to increase their after-sales service revenue by up to 67% with the platform and digital offering.
82%
Customer satisfaction increased by an average of 82% thanks to a digital offering based on the Smart Service platform.
90%
With the help of the ADTANCE Smart Service solution, the chemical company Evonik was able to reduce its service times by up to 90% and act faster.
The results reflect the possibilities and the extensive potential of a digital customer portal. Whether a corporate group or a medium-sized company, the added value and benefits are identical for almost all industries and company sizes. Regardless of whether the customer portal starts with fewer solutions or is fully comprehensive.