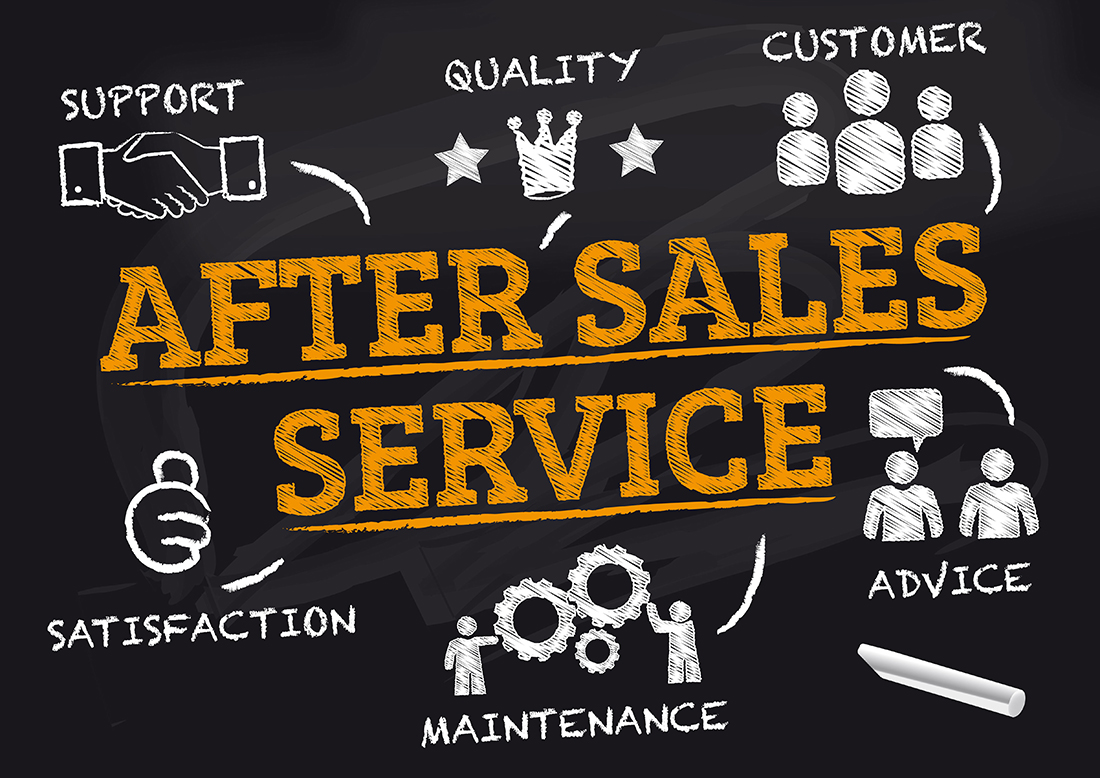 What does After Sales Service mean?
The terms after sales or post sales service cover all activities that are carried out after the primary business. After sales service is supposed to maintain the contact to the customers. Follow-up orders such as the maintenance of technical equipment or replacement and additional purchases provide a company with the opportunity to retain customers in the long term, even when competition is intense. This is an important opportunity for companies to differentiate themselves from the competition - especially when the product range is very similar, which is often the case in the mechanical and plant engineering sector. Post-sales services are therefore all services that are intended to further increase customer benefit after the purchase of a product. After sales management therefore does not primarily aim to acquire new customers, but especially to achieve lasting customer loyalty and higher customer satisfaction. It should contribute to the customer not feeling left alone after the purchase of an article. On the one hand, this should encourage them that they have made the right decision and, on the other hand, encourage them to make further purchases in order to further increase the company's sales. Companies can generally achieve higher profit margins with professional after sales support than with new business.
What types of After Sales Service are offered?
After a service has been taken up or a product has been purchased, there are points of contact between the customer, the service organisation and the sales department. These include service and maintenance, procurement of spare parts, repair and complaints.
After sales support uses these points of contact to arouse the customer's interest in further offers:
• Additional products or services
• Similar goods or services
• Upgrades or new products
• Newsletter
• Customer magazines
• Membership in a customer club
Various instruments are used for this purpose. In particular, the instruments of classic direct marketing have proven their worth, such as personal interviews, competitions, letters by post or telephone marketing. In the meantime, however, newer marketing instruments such as sms, e-mails, internet forums and events are also used.
After Sales Management and its Goals and Opportunities
The most important goal of post-sales-management is not to leave the customer alone after the purchase, but to provide continuous support. He receives assistance with the products and customer-oriented problem solving at any time. In doing so, customer loyalty is intended to be maintained, as it remains throughout the entire period a product is used. This increases customer satisfaction and loyalty. In addition, after sales support should reduce downtime to a minimum.
The primary goal of after sales management therefore is to keep a customer once he has been acquired and to encourage him to make further purchases. Customer loyalty is significantly improved by professional after sales support. The same applies to customer satisfaction. If they are satisfied with the product over the entire period of use, they will not feel the desire to switch to the competitor next time. Every consumer wants to avoid unnecessary efforts. Once you are satisfied with an item or service, you don't take the hassle of looking for another supplier. Instead, the next time he buys from the same place where he was satisfied the first time. This is in the interest of every company - and this is precisely why post-sales management is a great opportunity for companies. It is therefore not enough to produce good products. Instead, the customer should be completely satisfied with the product throughout its entire life cycle. This is especially important when problems do occur. If a customer contacts a company about a complaint, this should be seen as a reasonable chance: Now the company can differentiate itself from the competition through goodwill and cooperativeness.
It is part of after sales consulting to take its customers seriously even in difficult situations, to serve them reliably and quickly and to resolve the problems to the customer's complete satisfaction. This is exactly the supreme discipline of post-sales-support. In this way, the company maintains its image, retains its customers and possibly also benefits from a good rating in social media and other platforms. Beyond that, however, after sales management has another goal: it also helps the company to get to know its own customers better and to find out what their wishes and expectations are. It is therefore possible to do a customer survey after the purchase. The knowledge gained in this way can be of enormous help to the company in the development and marketing of future products. In this manner, the company's market position can be strengthened and extended, providing it with even better opportunities in the future.
Recent Problems and Challenges in After Sales Management
As many opportunities and advantages the after sales service offers, there are currently also a variety of challenges and problems for companies. One problem is that response and support times are usually long. There is often a lack of trained experts and it takes time for them to respond to the customer's support request. In addition to this, travel time comes up that passes until the expert is at the customer's site. In most cases, the experts are not available for the customer directly on site. It is also a problem if the customer does not have the information needed to solve the problem. For these reasons, long problem-solving processes occur, which are linked to downtimes and high costs. These inefficient maintenance and inspection processes are aggravating for the customer and do not contribute to customer loyalty. Thus, it is important that companies address exactly this problem and provide appropriate support. This is where the ADTANCE Smart Service Platform can offer solutions. It encompasses all areas of post-sales management and offers a comprehensive toolset for industrial companies. The solution includes numerous modules that help companies to create an individual service platform and make it available to their customers. The innovative modules include, for example, digital maintenance protocols, a ticket system, an e-learning module and a tool for resource and deployment planning. The individual modules are completely interlinked with each other, which enables automated data exchange. Even systems that are already used by companies can be connected. Thus, the ADTANCE Smart Service Platform makes it possible to overcome the challenges mentioned above and to implement after sales support more efficiently.