The After Sales Service 4.0: What for?
In the last article, we already mentioned the advantages of a digitalized after sales service, a so-called after sales service 4.0: A good after sales service is essential, so that the customer is not only satisfied with his purchase, but also feels confirmed in his decision afterwards. Because then he will tend to make another purchase from you and recommend you to others.
In plant and mechanical engineering, after a purchase, customer service accounts for a very large part of turnover: installation, regular maintenance work and possible repairs are costly but essential services. The sale of extension or spare parts is also important long after the original purchase.
Digitisation makes After Sales Service much easier and better:
The central storage of information allows cross-channel and cross-departmental, fast and uncomplicated access to the customer's complete history.
Via digital networking with partner companies, production steps can be precisely tracked and coordinated.
At the touch of a button the exchange of information replaces time-consuming postal channels.
Advice and assistance for the customer can be provided conveniently and time-saving via video chat.
3 Possibilities of digitalization of customer service in plant and mechanical engineering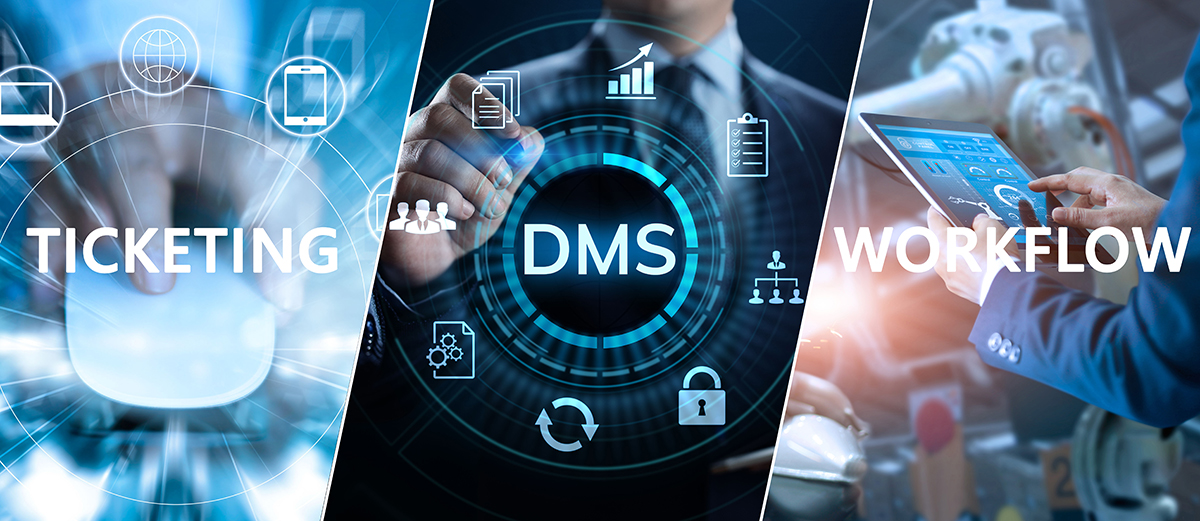 Workflow
Digitize your workflows quickly and easily with ADTANCE Workflow. Our software allows you to set up an almost infinite variety of automated workflows. For example, you will receive step-by-step instructions to help you set up, operate, maintain, inspect and repair machines.During inspection, checklists help you not to overlook any of the necessary checks and reliably document the status of all checked parameters.
You can also make the various tools available to your employees offline via various terminal devices. This provides them with automated, reliable instructions and tools for machine maintenance directly on site; without time delay and the need to contact the central office. This not only saves you time, costs and workforce, but also scores points with your customers through a very fast, competent and solution-oriented service that makes full use of the modern possibilities of digitization.
Especially in the field of mechanical and plant engineering, such assistance has proven to be very useful, as the diversity and complexity of the equipment almost always requires that more detailed information be obtained after an initial assessment. However, our software not only helps you to digitize processes that were previously done manually: It also offers you the possibility to analyse your workflows and to optimise them on the basis of the results. Weak points that lead to errors, irregularities or time delays are detected immediately.
Document Management System
The central digital storage of information has several advantages: As mentioned above, it facilitates and accelerates the collection of information enormously. Different people and entire departments can display all relevant information about the customer at the touch of a button.
The manual search and compilation of certain documents, time-consuming queries and waiting for an answer or the sending of required information is no longer necessary: The request can be handled quickly, easily and without errors. It also avoids errors that can occur when information is manually transferred in paper form.
If a very specific piece of information is required, the search, sort and filter functions of the software used are of immense help. Since the documents are not stored in paper form at a specific location, but virtually in a digital database, they can be accessed from almost anywhere via various terminal devices.
In summary, a document management system eliminates time-consuming and costly routes, waiting times, manual changes and sometimes errors in communication across several corners, enabling the customer to be offered a fast and very good service. Ultimately, digitization saves you paper and printing costs and protects the environment.
Take advantage of the benefits of the ADTANCE Document Management System (DMS).
Ticket system
Ticket systems offer you great advantages: They make your customer service transparent, clear and standardize the handling processes. Different employees and authorized departments can view the customer's entire history at the touch of a button. This makes previous concerns and problem cases visible at first glance, possible parallels can be identified and the customer can be given particularly individual support, as all his previous activities are taken into account during processing.
The bundling of different service channels in one system also contributes to this: Regardless via which channel the customer contacts you, all his previous activities can be viewed and used to find the ideal solution to his problem.
The standardization of processes not only makes work easier for your employees, as they are given clear instructions for processing each situation; your customers will also receive a professional, structured impression of your company if the same inquiries are consistently answered identically. Your processes are thus traceable, your service offering appears organized and trustworthy. All customer activities and services that the customer has used are carefully documented so that they can be retrieved, viewed and precisely traced later on.
Learn more about ADTANCE Ticketing.
Further options
The possibility of remote maintenance is still of great importance for Customer Service 4.0. The problem analysis and processing via ADTANCE Support via video chat accelerate and facilitate the solution of the case enormously. The customer is spared waiting time and the service employee does not have to travel to the site.
You can read more about this in the second part of our article "(Part 2/3) Six possibilities to digitalize your after sales service in plant and machine construction", which will be published shortly.
Process Visualisation and Monitoring (PVM) is a digital process similar to Condition Monitoring. It displays various processes in the form of graphics on a user interface. In this way, processes can be monitored, related to each other and checked for their efficiency. Links and chronological-logical sequences become visible and can be improved if necessary.
PVM is used for quality management, automation and process engineering as well as various management processes.
ADTANCE Predictive Maintenance (PM) takes over the task of permanently controlling machines and production plants via sensors. Automated measurements enable analyses in real time, so that emerging problems can be detected before they actually occur. This enables immediate intervention, minimizing downtime and the associated loss of profits. Automated monitoring is much more effective than regular manual checks, as errors are virtually eliminated and measurements are not just occasional, but permanent.
You will also find a detailed report on this subject in the third part of our article, "(Part 3/3) Six possibilities to digitalize your after sales service in plant and machine construction".
Your Service 4.0 with the ADTANCE Smart Service Platform
The ADTANCE Smart Service Platform offers you the successful digitization of your after sales service. On our Smart Service Platform you can configurate all the above mentioned modules, adapted to your needs - even already existing systems can be combined. ADTANCE Smart Service can be used from various end devices. Within the platform, you can set up a platform that is specifically designed for your customers and assign them different authorisations.
To guarantee the protection of your data, all modules of our Smart Service Platform use the highest security standards.
Conclusion
In order to remain competitive and to reliably meet the demands of your customers in the future, you cannot avoid digitizing your customer service. Automated workflows, document management systems and careful ticketing are just some of the many factors that make Service 4.0 fit for the future.
To ensure a smooth transition to digitization, very high quality, user-friendly software is essential. ADTANCE provides you with solutions to get you started.