The key innovations
Completely revised user interface
Together with customers, the user interface was planned, developed and implemented from scratch so that step-by-step instructions, checklists, training, acceptance protocols and much more can be implemented in the shortest possible time. This makes it even easier to implement complex processes on the plants and machines, and the technicians, maintenance staff and production employees receive quick support for their daily tasks.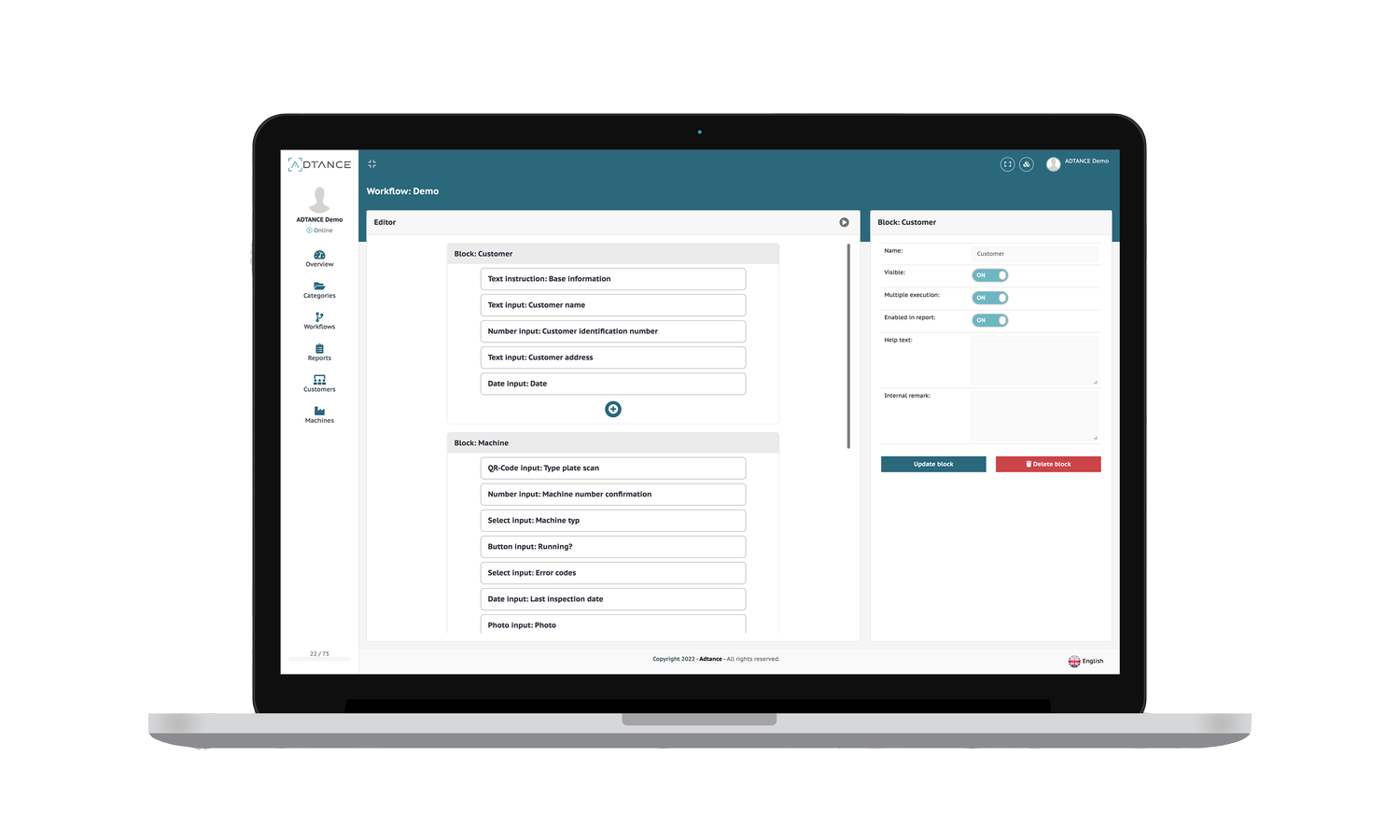 AI support for the creation of multilingual instructions
Thanks to integration artificial intelligence, multilingual step-by-step instructions and checklists can be created and optimized with a single click. This can be used to create a comprehensive portfolio of digital support options for employees, customers and partners worldwide and drastically reduce the time required. Currently, the functionality is available in 29 languages and is constantly being expanded based on customer needs.
Detailed report generation
With the help of the new ADTANCE Workflow solution, different versions of reports can be created at the push of a button. This can be used, for example, to create a customer version and an internal version so that only the required information is provided in the reports and is available as a PDF.
QR codes for categories, machines and workflows
The introduction of the QR code system offers the option to call up entire categories, machines or individual workflows by scanning them, which can be performed directly in the browser on the mobile devices. Smartphones, tablets, computers and smartglasses can be used. This ensures that the relevant work instructions are always available quickly and easily and can therefore be used as a fully comprehensive worker assistance system.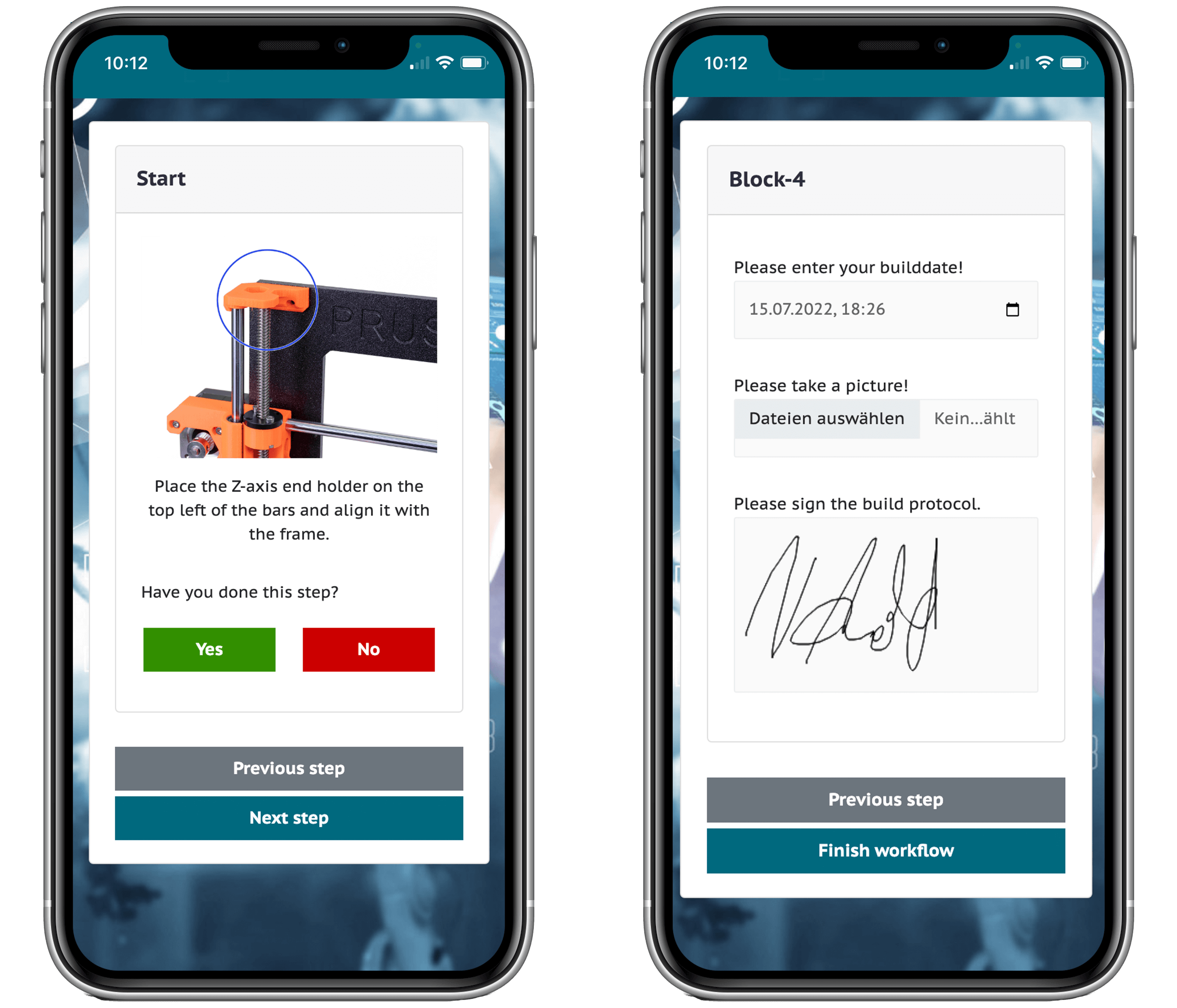 Scheduling option for workflows
With the fully comprehensive ADTANCE Smart Service integration, maintenance, checks and training can be scheduled at intervals for plants, machines and components. This provides a complete overview of pending tasks, including notification if a task is overdue or only partially completed. Reminders for tasks are sent to the customer as well as the machine manufacturer as needed. All reminders must be acknowledged by the technician so that future reminders can be rescheduled.
Expanded language offering
With the introduction of the new version, the modules are available in the following languages: English, Spanish, French, German, Italian, Portuguese, Swedish, Chinese and Greek. This allows customers worldwide to use the system in their favorite language and also provide it to their customers.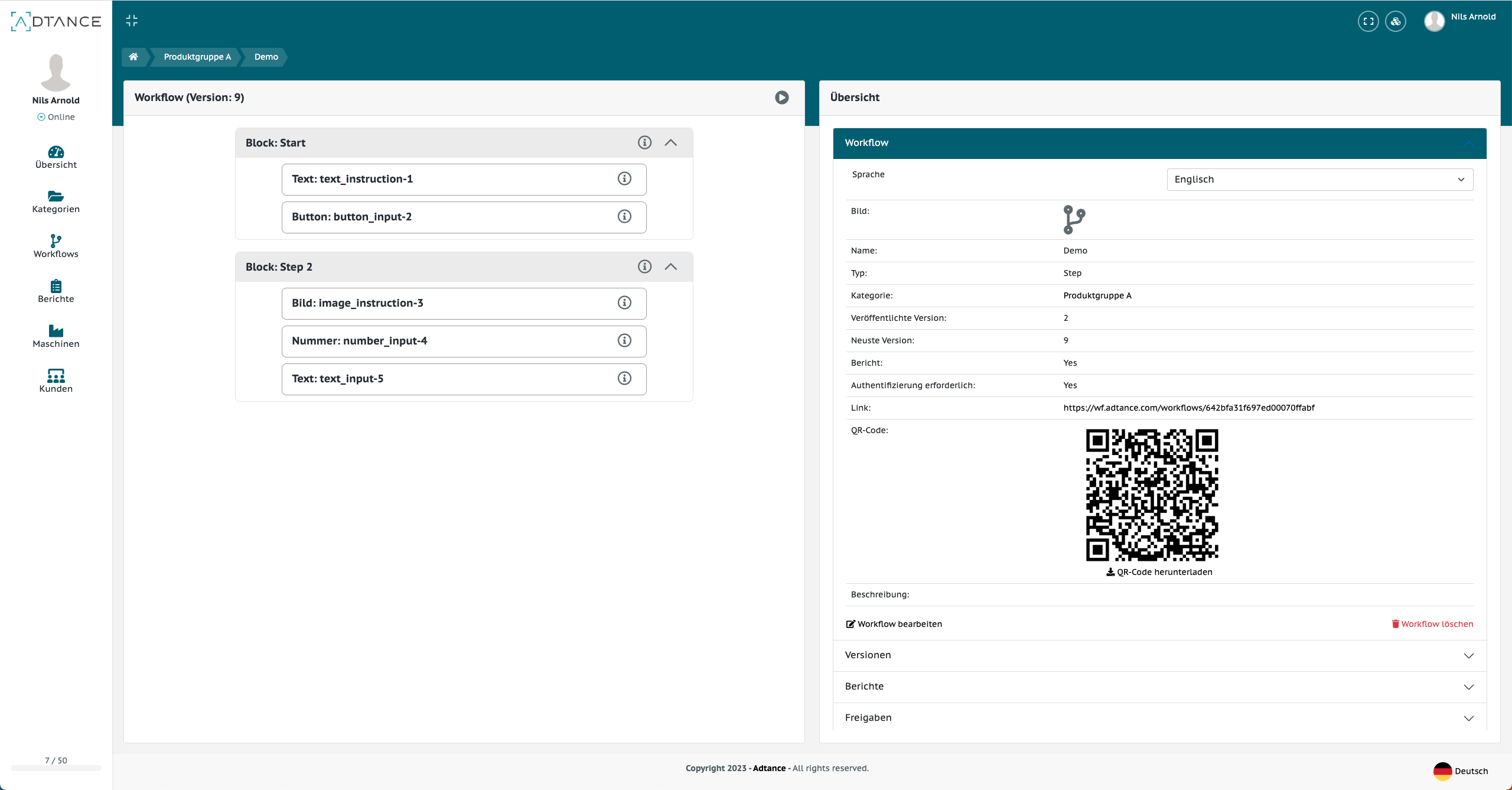 How the creation of workflows works
When creating the corresponding workflows, you can choose between two modes, which influence the display during execution.
Flow: All contents, queries and details are displayed on one page, so that the user can see and process all information at a glance.
Step: The process is displayed step by step, so that the user receives the information one after the other and the focus can be kept on the individual steps.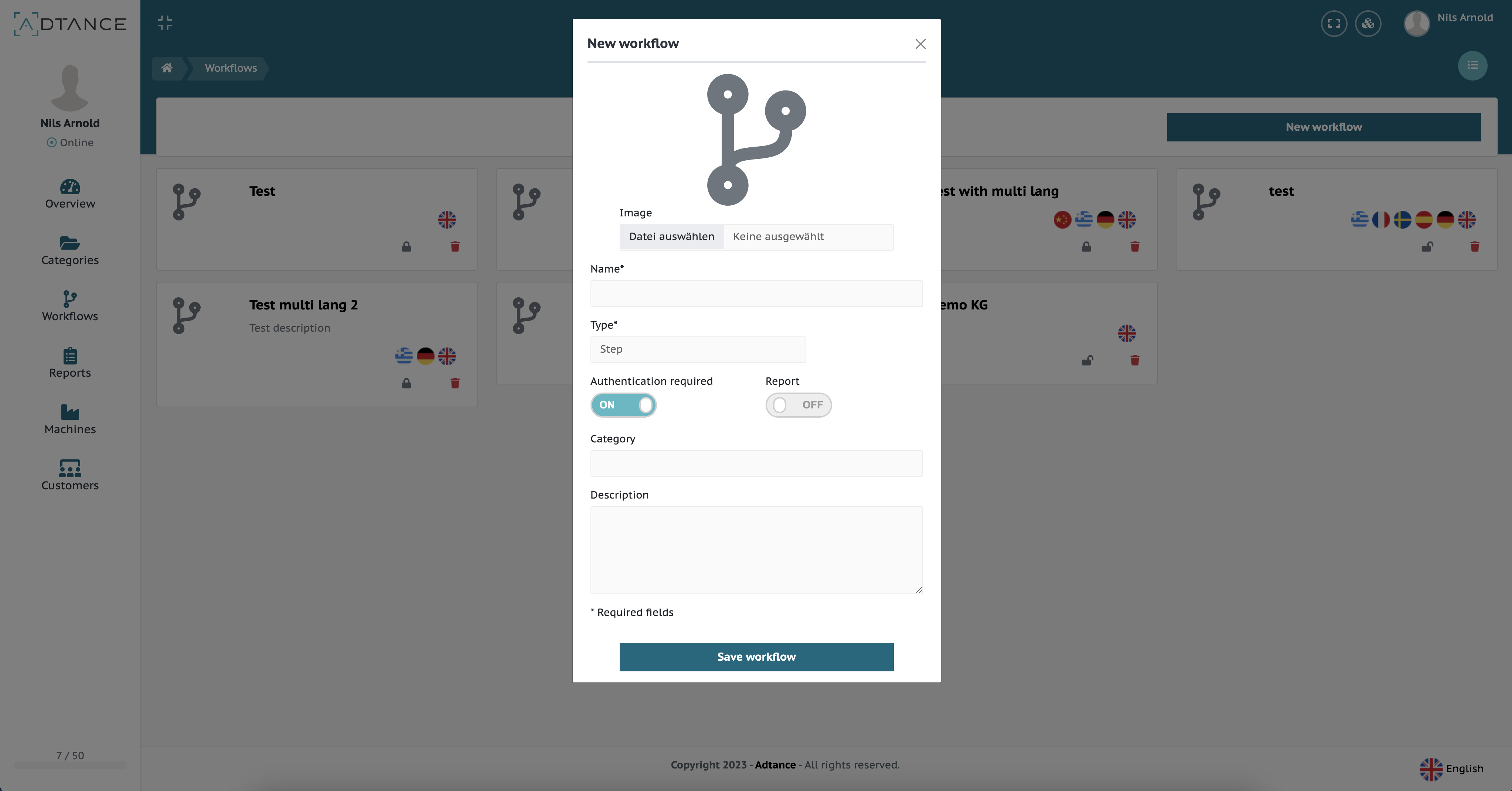 In addition, it is determined whether a report should be created for the execution or not, as well as the categorization of the workflow. Finally, access can be determined for the workflow, controlling who has access to the business process mapping and whether logged in users are required.
As soon as the core information for the workflow is determined, the corresponding steps, information, instructions and inputs are stored in the editor. All required elements are available from image, text and video instructions to signature, QR code and other inputs. Notes and details about each step can also be added at any time. The business process map is saved along with revisions and access is granted only to the desired version.
All notes, images, lists and data can be summarized in reports at the end, which can then be distributed to the appropriate users. The corresponding list of all versions, reports including attached data, notes and information about the users can then be found in the platform.
"Many of our customers suffer from high staff turnover and the overall shortage of skilled workers. Because staff changes frequently, it is often not possible to keep knowledge within the company or offer employees high-quality training. Therefore, it was important for us to bring training into the everyday work of machine operators. Well-trained personnel play an important role in our customers' plant productivity. Workflow helps us achieve this goal with the multilingual visual step-by-step instructions." Pascal Vanschoenwinkel, AR:DEL – The Reifenhäuser Academy, Reifenhäuser GmbH & Co. KG Maschinenfabrik
The solution offers a variety of use cases for manufacturing companies
Quality Control: Digital checklists can be used to ensure that products meet required standards. By creating checklists that cover all required quality control procedures, manufacturers can ensure that their products are consistent and meet customer expectations.

Safety and compliance: Using ADTANCE Workflow can ensure that employees follow safety procedures and comply with regulatory requirements. By creating checklists that cover all required safety and compliance procedures, manufacturers can reduce the risk of accidents and fines.

Production processes: digital step-by-step instructions can be used to guide employees through the various stages of the production process. By providing clear and concise instructions, manufacturers can ensure that tasks are performed in the correct order and reduce the risk of errors.

Maintenance and Repairs: Digital checklists and step-by-step instructions can be used to guide employees through maintenance and repair procedures. By providing detailed instructions, manufacturers can ensure that maintenance and repair work is performed correctly, reducing the risk of equipment failure and downtime.

Training: Digital checklists and step-by-step instructions can be used for training purposes. By creating interactive training materials that employees can access from any device, manufacturers can ensure that their employees are properly trained and have a clear understanding of the procedures associated with their jobs.
By providing a user-friendly platform for the creation of digital checklists and step-by-step instructions, ADTANCE Workflow helps companies increase productivity and reduce the risk of errors. In addition, the software improves collaboration between team members so they can work more efficiently and effectively.
Overall, the release of ADTANCE Workflow represents a significant advance for the manufacturing industry. The new features and enhancements make the software an indispensable tool for companies in the manufacturing industry looking to improve their operational efficiency and achieve their goals.
Use the new version for your use cases as well and benefit from the innovations
Start your free trial today and create workflows for your use cases. We are available at any time for a conversation about your requirements and we will be happy to present the software to you in a live demo.