ADTANCE Support for audio-visual fault analysis at FRIMO
In the context of increasing digitization and increasingly high expectations of machine availability, fast and efficient customer service is an important part of the value chain of companies. FRIMO already uses various solutions for preventive maintenance to significantly reduce the probability of failure of your plants. In case of a breakdown FRIMO offers a hotline for fast assistance. Situations can arise where a mere verbal description of the fault is not appropriate or leads to long downtimes. Therefore FRIMO has searched for a solution that allows an audio-visual fault analysis and can be used by the customer in the shortest possible time.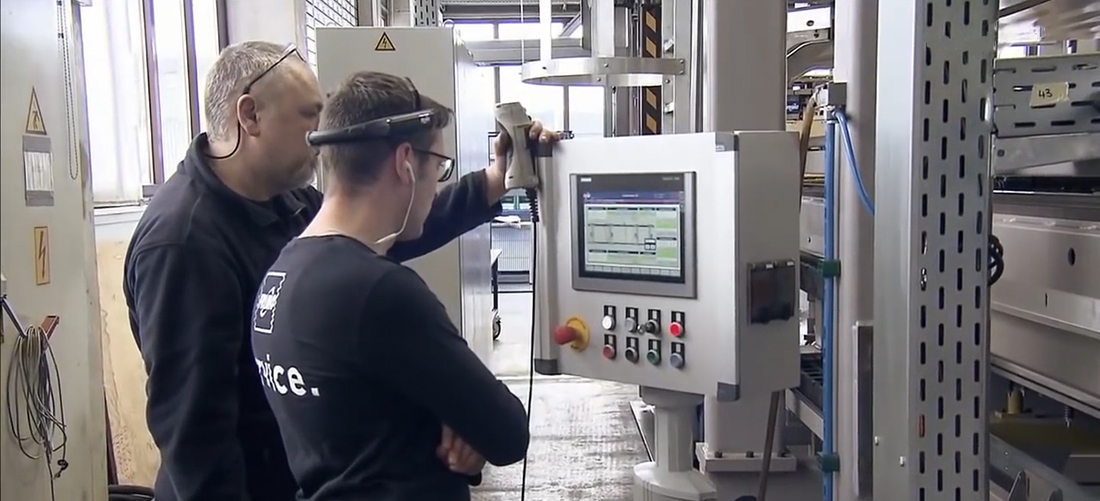 With ADTANCE Support FRIMO finally found the solution that met the company's requirements. ADTANCE Support offers the company the desired simple handling and flexibility through its applicability on data glasses but also on mobile devices. FRIMO customers can now take a pair of data glasses with them when a problem occurs on a machine and share their field of view when contacting a FRIMO service expert. The expert has a visual representation of the problem on his desktop and can quickly identify the source of the problem in cooperation with the customer. For less complex problems the FRIMO expert has the possibility to give instructions to the customer on how to solve the problem. Thus minor errors can be corrected without the need for a FRIMO Service Expert to travel to the customer.

If the customer has no data glasses at hand, the described process can be carried out via video livestream on a smartphone or tablet. The performance of the solution and the flexibility with wishes or suggestions convinced the company, so that FRIMO has entered into a strategic partnership with us – ADTANCE.

ADTANCE Support offers FRIMO customers fast help in case of downtimes and supports customers and users with numerous functions, such as the display of technical documents but also by lowering the language barriers with the integrated translation function of language and word. In conclusion, Lars Albermann said that the solution provides a modern and reliable solution to support customers during downtimes quickly and without delay. This is the only way FRIMO can meet its claim to provide its customers with elementary added value in the area of machine availability.