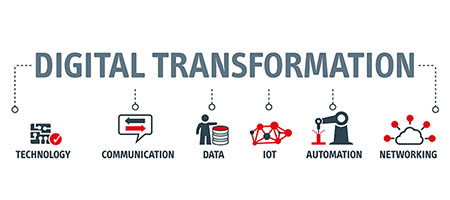 New disruptive technologies and increasing digitalisation are transforming our everyday life and are not stopping at industry. The After Sales Service in particular is affected by these changes. The current status quo has long since ceased to be sufficient to meet increasing customer requirements. It is therefore essential to create reliable services and to position the After Sales Service correctly. Ultimately, the margins in this area are higher than in any other, making customer service an increasingly important influencing factor for companies.
But what are the most important trends in After Sales Service in 2019 and how can companies implement these trends and benefit from them?
Trend 1: Cloud Services
While just a few years ago classical ERP systems were the central core of every larger company to manage the price strategy and stock keeping, these cumbersome systems are nowadays no longer sufficient to manage a business effectively. More and more companies are therefore turning to lightweight apps and cloud-based portals that extend or completely replace established ERP systems. With the help of these new and smart solutions, it is possible for employees to have access to all data regardless of time and place. Field staff can quote customers directly on site and request necessary spare parts in real time. This increases the chances that the right products and spare parts are in the right place at the right time. In addition, cloud-based platforms offer the advantage of accessing internal data as well as customer and competitor data from anywhere. This enables competitive quotations and also improves customer service and the resulting customer satisfaction.
Trend 2: Predictive Maintenance
As in previous years, the trend in 2019 will continue to be towards the predictive maintenance and servicing of systems and products. Today's customers expect not only a functioning product when they buy it, but also perfect customer service and the lowest possible downtimes. It is therefore no longer sufficient to repair a product or system if it breaks down. Rather, new technologies must be used to create systems that detect faults at an early stage and proactively provide a solution to the problem even before it fails. The automotive industry, with innovation drivers such as Tesla or Volvo, is once again making the headlines. Networked systems in automobiles that monitor the vehicle and report possible problems directly to the manufacturer are no longer dreams of the future. In the final stage, necessary spare parts orders and service appointments in the workshop can be carried out completely autonomously, without human intervention. In order to automate these processes, existing data protection laws currently still need to be amended. From a technological point of view, however, it is already possible to offer this service to customers today, and the demand for this After Sales Service is growing.
Trend 3: Big Data
Big Data is not only about having the right data, but also about drawing the right conclusions from the available data to realize service improvements. The core is always smart and in-depth analysis that manages to evaluate the available data in such a way that real added value can be created for the customer. Only in this way can customer satisfaction be increased and sustainably improved. The collected data often provides conclusions about what motivates the customer to buy a product or service and which factors influence buying behavior. Companies have the opportunity to create a differentiated customer experience based on the collected data, which stands out from the competition. In addition, the integration of mobile solutions and the use of portals can add a personal touch to customer service, allowing customers and their wishes and problems to be addressed directly in real time.
Trend 4: Renting instead of buying
The After Sales Service is facing the big change that customers are increasingly turning to rental solutions and subscriptions. This shift not only affects automobiles, but also plant, machinery and household goods. Companies must develop suitable business models for their products that respond to this trend. In the news there are always innovative solutions from manufacturers who attract attention with creative ideas. For example, a Swedish manufacturer of milking machines provides its customers with a rental model where they only pay for the number of litres of milked milk. Successful companies that do not want to miss out on this development should therefore consider today whether their products are suitable as a rental solution or subscription, or whether it is possible to adapt the products and services offered in such a way that this sector can be served in the future.
Trend 5: Internet of Things
The Internet of Things is one of the most accessible technologies of our time, with the focus on networking computers with everyday virtual as well as physical objects. The technologies that are used for this purpose are becoming increasingly important for the industry. Used intelligently, networking makes it possible to improve the uptime of plants and products and minimize downtime. With the help of smart analysis software, additional benefits for customer service can be created that can be integrated into the existing service model. According to experts, the Internet of Things has the potential to be the main driver for manufacturing products and equipment that stand out from the crowd because of their long life and low downtime.
Conclusion
After Sales Service will remain one of the most critical success factors for companies in 2019. The trends here clearly show that companies must respond more strongly to changing customer requirements in order to achieve sustainable profit increases. Nowadays, a customer no longer buys a lawn mower, but pays for a well-tended lawn. There must therefore be a rethink within customer service in order to find solutions that focus on customer needs and individual solutions. It is not enough to simply strive to integrate new technologies. Rather, it requires a holistic approach that encompasses both technological advances and people to adapt the existing supply chain management to the new market conditions and equip it for the future.